The motorbike glove is a central interface between man and machine. Precise grip and optimal tactility are therefore indispensable for a superior control of the vehicle. The glove also has an important protective and comfort function. The Guardo models from Touratech master this complex task with the latest textile technologies. A portrait of the adventure glove Guardo Rambler GTX and the summer glove Guardo Desert+.
Guardo Rambler GTX
The Touratech Guardo Rambler GTX is a 3-season glove with numerous sophisticated technical features. The waterproof and breathable Gore-Tex membrane is supplemented by Gore Grip technology, which guarantees a secure grip and excellent tactility. The preforming also aims in this direction, so that the fingers are completely relaxed against the handlebar grips.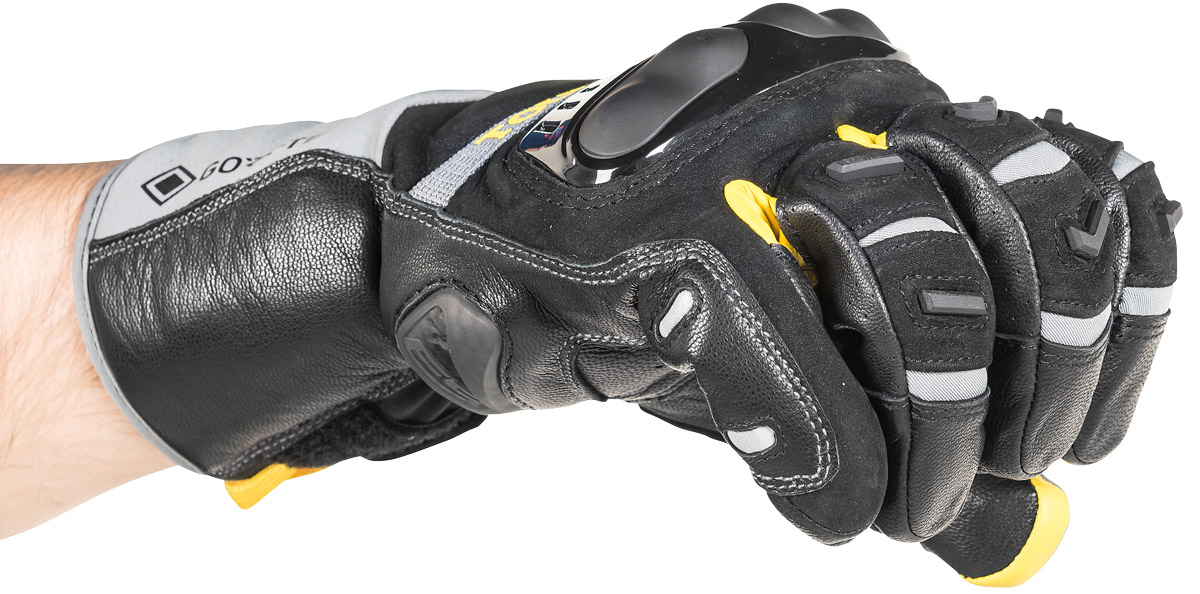 The short cuffs are made of 4-way stretch material to allow optimal mobility.
Safety is also a top priority for this well-equipped glove. The palm protector is made of shock-absorbing SEESOFT™ memory foam to effectively reduce impact energy in the event of a fall. It is embedded in highly abrasion-resistant TPU, which ensures that the glove slides if the hand comes into contact with asphalt - which significantly reduces the risk of injury. On the backhand, hard-shell knuckle protectors made of thermoplastic polyurethane provide superior protection. Not to mention the extremely abrasion-resistant goatskin on the palm.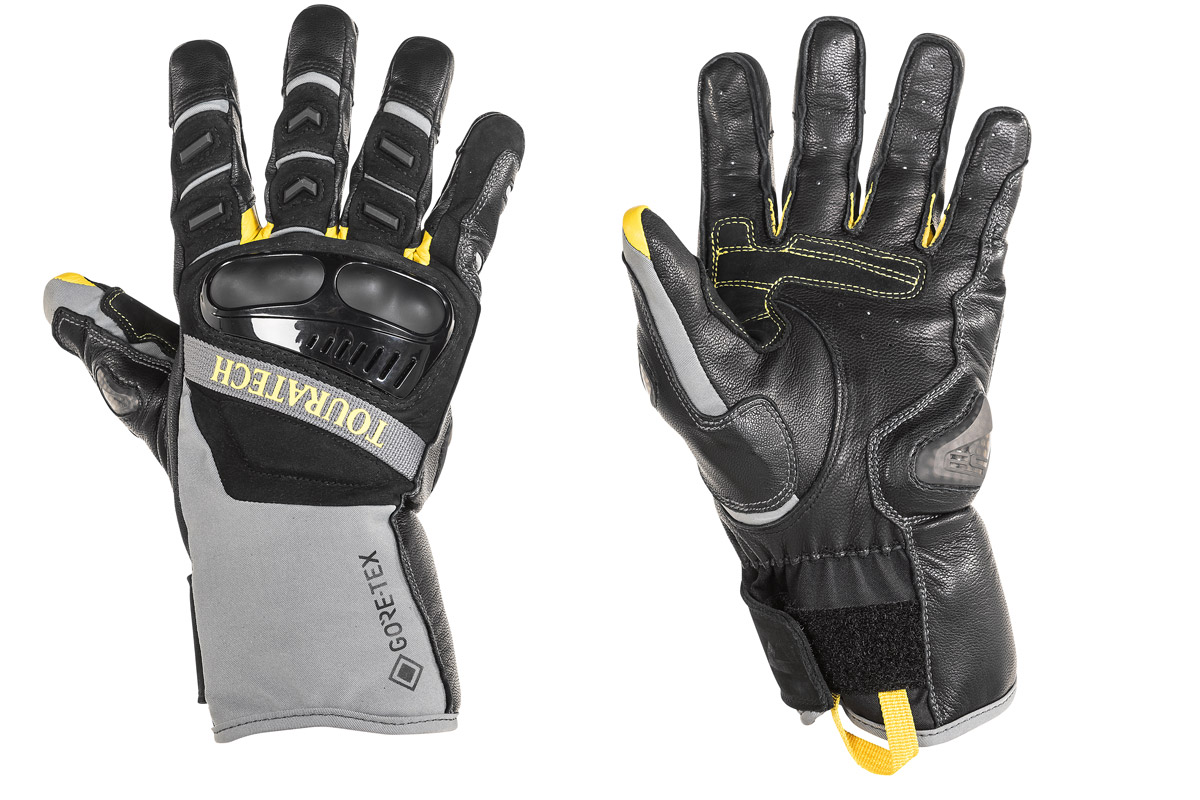 The Guardo Rambler GTX gloves are certified according to the EN 13594:2015 standard as "protective gloves for motorcyclists". For the 2023 season, the Guardo Rambler GTX is available in elegant black.
Gloves Guardo Rambler GTX & GTX Black

Guardo Desert+
Adventure riders love the Guardo Desert+ summer glove. And you don't even have to go on a desert expedition to discover all the advantages of this lightweight glove. They pay off everywhere in the world in summer weather.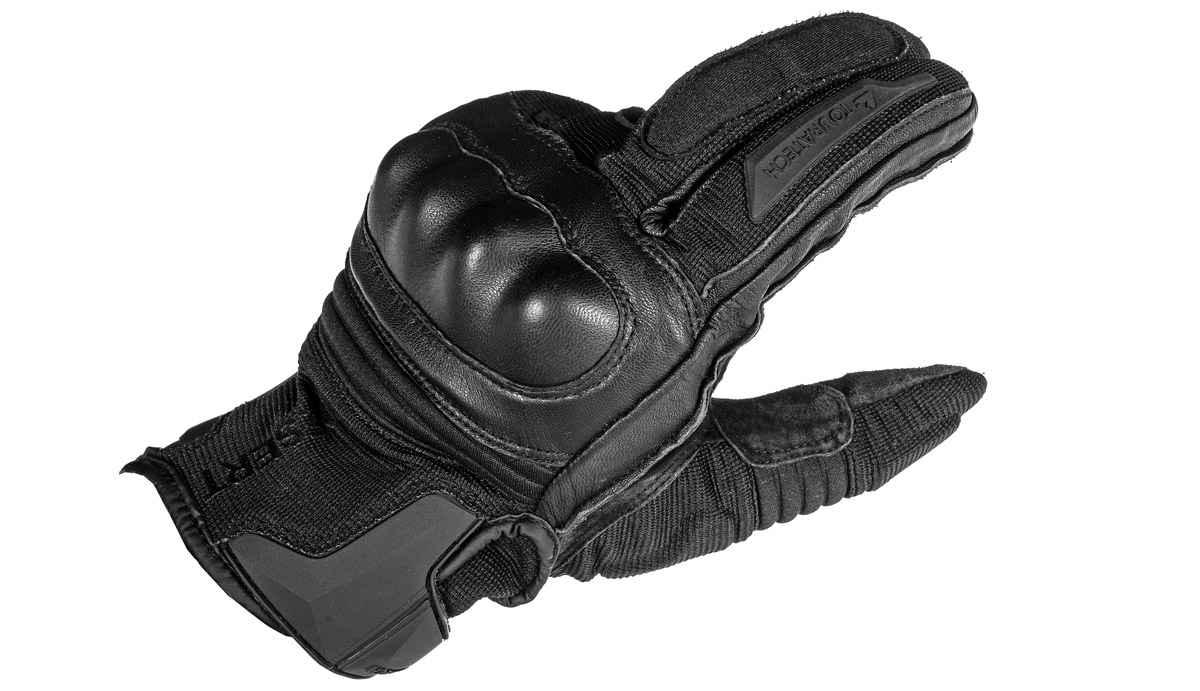 Wonderfully ventilated, the Guardo Desert+ still offers excellent protection. The underhand is made of highly abrasion-resistant goat nappa leather, and the edges of the hand are reinforced with Superfabric®. There are also padded inserts on the fingers and knuckle protection. And then there is the leather trim on the polyester backhand. In addition to the popular grey/yellow colour scheme, the Guardo Desert+ is now also available in black!
Glove Touratech Guardo Desert+
The waterproof Guardo Rain overglove is a perfect addition for longer rainy stages.
Glove Touratech Guardo Rain